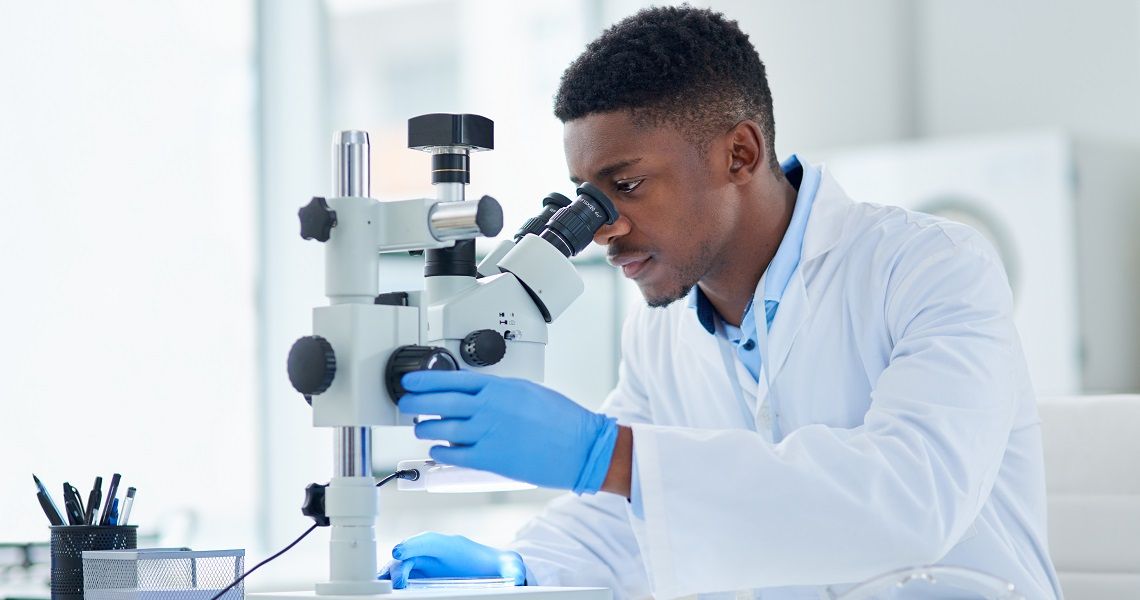 Qualify to sit for the ASCP MB Exam in 24 Months
The George Washington University's (GW) online Master of Science in Health Sciences (MSHS) in Molecular Diagnostic Science degree examines the latest nucleic acid-based technologies to provide you with the skills and practical experience to solve complex issues in molecular diagnostics and clinical pathology. GW's comprehensive online program is one of few that combines molecular diagnostics, diagnostic genetics and biotechnology coursework with an in-person clinical laboratory rotation experience.
To learn more about our programs, you can register for our upcoming events here. 
*Indicates required field
By providing your phone number, you have authorized the George Washington University, and its representatives, to send you SMS/Text messages in conjunction with the services you have requested. Message and data rates may apply.
If you no longer wish to receive SMS/Text communications from GW, you will have the option to opt-out.
By submitting your information, you confirm you have read the Privacy Notice.
QUICK FACTS:
24 months
Average Duration
Accreditation and Rankings
GWU is accredited by the Middle States Commission on Higher Education
#62 Best National University*
#15 Best Online Bachelor's Programs*
#8 Best Online Bachelor's Programs for Veterans*
* The U.S. News & World Report – 2023 Rankings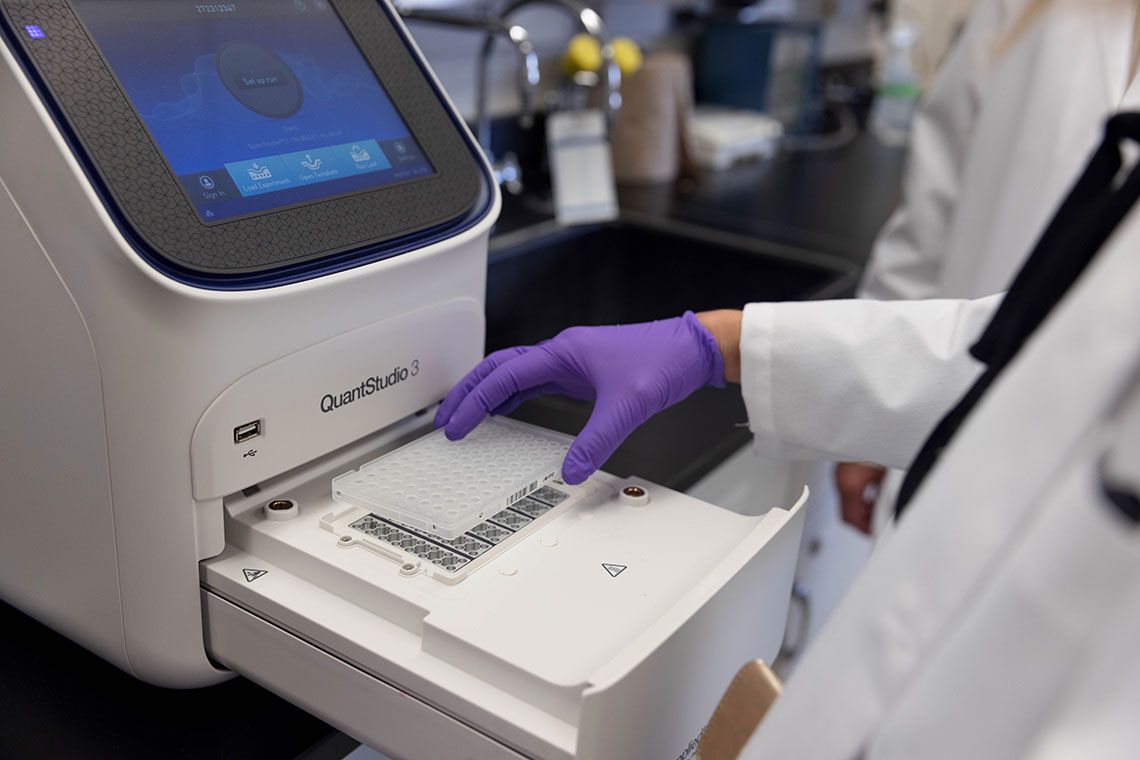 Program Highlights
100% online coursework, no visits to campus required
Complete your degree in 24 months
Qualify for the ASCP Molecular Biology (MB) exam
Qualify to sit for the ASCP Technologist in Molecular Biology (MB) exam**
Applicants with clinical laboratory experience may be eligible to waive individual clinical practicum requirements
Curriculum
In the online molecular biology master's degree program, you'll explore diagnostic genetic sciences and learn how to excel in molecular diagnostics, so you can pursue a career in a variety of health care organizations, including clinical pathology and molecular laboratories, public health laboratories, and biotechnology companies.
Through 12 courses and a total of 35 credit hours, this online program explores diagnostic genetics while leveraging distinguished faculty, real-world experience, and an innovative curriculum. In two years, you'll gain the comprehensive skills you need to succeed in diagnostic genetics and clinical pathology research. Applicants with clinical laboratory experience may be eligible to waive individual clinical practicum requirements.
Program Outcomes
When you complete the online molecular biology master's degree, you will be able to:
Apply molecular and genetic theory and principles as they relate to human disease in order to facilitate an appropriate diagnosis and/or prognosis
Interpret molecular diagnostics test results to determine a probable disease mechanism
Design a research project that utilizes diagnostic genetics technology to diagnose disease or improve clinical outcomes
Demonstrate the application of molecular biology in real life
Communicate, both orally and in writing, in an effective and scholarly manner
Adhere to all local, state, and federal laboratory regulations to maintain a safe and ethical work environment
Who Is the Ideal Student for This Program?
The online molecular biology master's degree program is designed for individuals who hold national certification or wish to become certified in Molecular Biology.
Career Outlook
GWs online MSHS in Molecular Diagnostic Sciences is one of the few programs that provide students with both traditional coursework in molecular biology, diagnostic genetic sciences, and biotechnology, as well as the hands-on clinical rotation experience required to prepare for ASCP Board Certification in Molecular Biology. Applicants with clinical laboratory experience may be eligible to waive individual clinical practicum requirements.
Upon completion, graduates will be ready to pursue board certification in Molecular Biology and begin an exciting career in a molecular diagnostics laboratory, research institution, public health laboratory, biotechnology firm, a pharmaceutical company, or government agency with titles such as:
Biotechnology or Government Research Associate
Molecular Laboratory Scientist
MLT/MLS Teaching positions
Public Health Laboratory Scientist
Admission Requirements
To be accepted to the online molecular biology master's degree program, you must have:
Completed application
Bachelor's degree in a basic or medical science (e.g., Biology, Chemistry, Microbiology) from a regionally accredited institution
3.0 GPA or above on a 4.0 scale
Resume/CV
A written personal statement
Two letters of recommendation
Meet the Program Director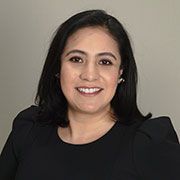 GW's experienced faculty provide you with the rich, practical knowledge and support needed for you to succeed in the program and in your career.
Graciela Lopez Gamboa, MD, MSHS
Read Full Bio

Dr. Graciela Lopez is the current program director for the Molecular Diagnostic Science programs. She started her career in 2006 as a physician in Bolivia, later moving to the US where she continued to work in the medical clinical setting for over 10 years.  During this time she became interested both in clinical laboratory sciences as well as being part of academics, and in 2018 she graduated from the MSHS in Molecular Diagnostics program form George Washington University. The following year she began working with the Biomedical Laboratory Department (BLS) as adjunct faculty and since 2022 she has been in a fulltime faculty member. Nowadays, aside from her program director responsibilities she teaches online courses in the different programs available through our department plus she also teaches the in-person Molecular Diagnostics lab for our hybrid students.

Dr. Lopez is passionate about healthcare education and bringing awareness to healthcare careers, especially those within the clinical laboratory setting. She has been involved in developing the Medical Laboratory Technician/Phlebotomy Assistant pathway for the Health Science Academy at Alexandria City Highschool and was the first instructor for that program.  She also participated as a mentor for HOSA- Future Health Professionals. 

She is currently working on completing the Master Teacher Leadership program through GW University with the goal to continue to improve the courses and programs she is involved with.

She looks forward to working on academic and lab-based research alongside her BLS colleagues, as well as with the students that come through our programs. 
---
Disclaimers:
**While the completion of this program will make graduates eligible to register for an ASCP Board of Certification Exam, this does not automatically guarantee a graduate will also meet their states requirements for state licensure (if applicable). Since each state may have different requirements for licensure, each student is encouraged to contact their states regulating agency and review these requirements prior to beginning any degree program.
Best Health Care Support Jobs. USNews.Com
National Accrediting Agency for Clinical Laboratory Sciences (NAACLS)
5600 N River Road, Suite 720
Rosemont, IL 60018-5119