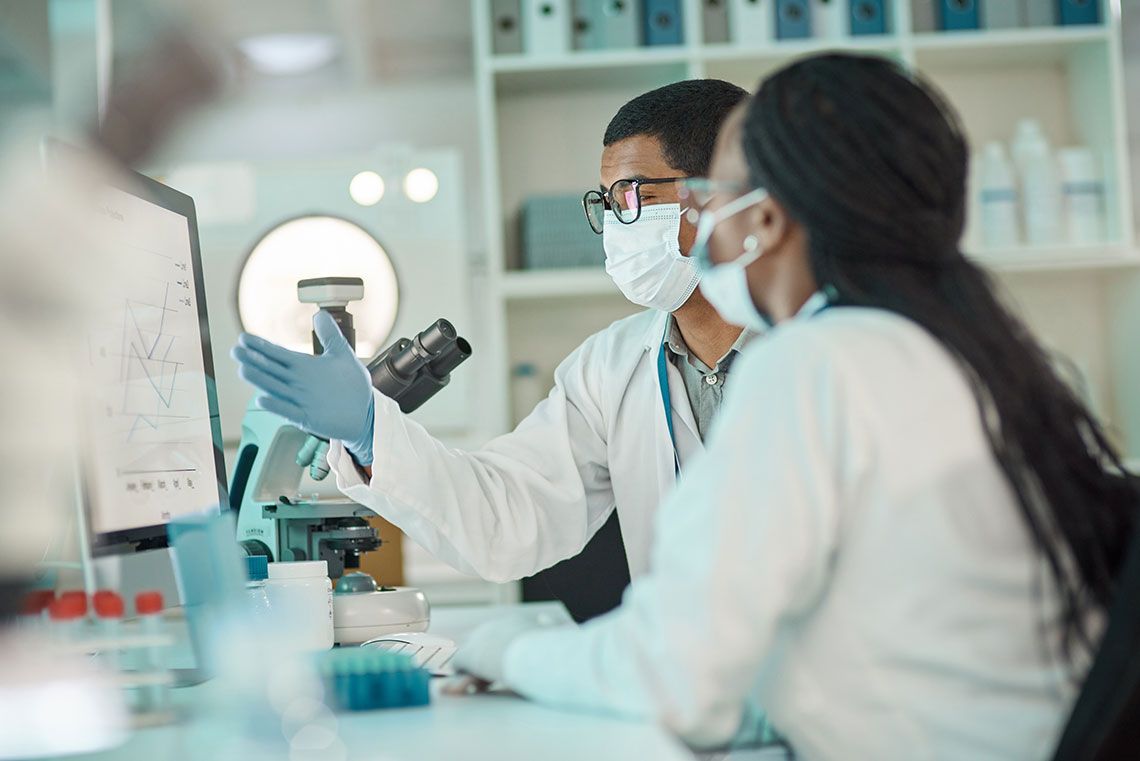 Work hands-on at the molecular level.
The George Washington University's (GW) online Post-Baccalaureate Certificate in Molecular Diagnostic Science gives you the knowledge and hands-on experience to work testing DNA, RNA, proteins, and other biological products.
You will learn the specific clinical laboratory techniques to detect and identify biomarkers at the nucleic acid levels in major areas of medicine including genetic disorders, infectious diseases, cancer, pharmacogenetics, and identity testing.
*Indicates required field
By providing your phone number, you have authorized the George Washington University, and its representatives, to send you SMS/Text messages in conjunction with the services you have requested. Message and data rates may apply.
If you no longer wish to receive SMS/Text communications from GW, you will have the option to opt-out.
By submitting your information, you confirm you have read the Privacy Notice.
QUICK FACTS:
100%
Online
12 Months
Average Duration
Accreditation and Rankings
GWU is accredited by the Middle States Commission on Higher Education
#62 Best National University*
#15 Best Online Bachelor's Programs*
#8 Best Online Bachelor's Programs for Veterans*
* The U.S. News & World Report – 2023 Rankings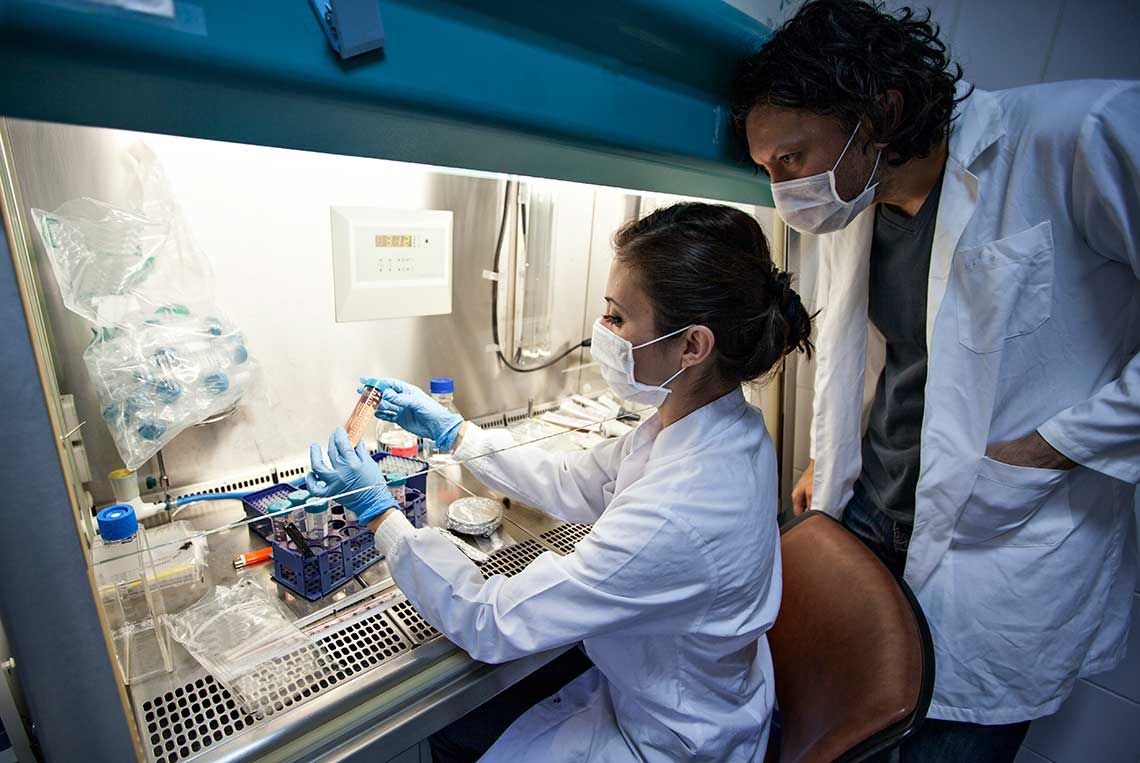 Program Highlights
ASCP (MB) Qualify for the ASCP Molecular Biology (MB) Exam
Clinical practicum waivers are available for qualified students
Finish in about 12 months
Students of this program are eligible for financial aid
Curriculum
Launch your laboratory career with seven courses dedicated to the exciting, up-and-coming field of molecular diagnostic testing.
You will focus on topics such as laboratory management and operations, molecular biology, human genetics, and applied molecular testing, and complete the certificate with a practicum diagnosing diseases in a real-world clinical setting.
Finish this program ready to help people get well through effective testing and diagnostics.
Program Outcomes
Upon successful completion of the program, students will be able to:
Explain the methods of collection, transport and handling of various specimen types for molecular analysis.
Apply molecular-based testing for laboratory utilization and clinical decisions for patient/client outcomes
Implement preventive and corrective maintenance programs for equipment and assays, as well as troubleshoot and evaluate appropriate actions for problem resolution
Apply knowledge of molecular and genetic theory and principles as they relate to human disease diagnosis.
Who Is the Ideal Student for This Program?
To handle the online portion of the degree, you must be organized and independent. Students who excel at science-based coursework and are excited by molecular testing's potential for medical science are a good fit for this program.
Career Outlook
Given the rise of commercialized, at-home DNA testing kits and recently proven medical capabilities, particularly in cancer diagnosis and treatment, the need for diagnostic molecular scientists who can ethically and properly manage the challenges of molecular testing and the data it provides is great.
When you graduate with the online Post-Baccalaureate Certificate in Molecular Diagnostic Science from GW, you will be prepared to work as a technologist in a diagnostic molecular laboratory, public health laboratory, research institution, law enforcement agency, the molecular section of hospital laboratories, reference laboratory, biotechnology firm, or, pharmaceutical company.
Medical technologists with molecular biology skills earn a median salary of $55,740 per year, with the top 10% earning more than $73,000.1
Admission Requirements
To be accepted to this program, you must have:
Completed application
2.5 GPA or above on a 4.0 scale
Bachelor's Degree
Resume/CV
Statement of purpose: Applicants must include a 250–500 word essay describing your reasons for undertaking study at GW, your academic objectives, career goals, and related qualifications including collegiate, professional, and community activities relevant to your program of interest. Include any substantial accomplishments not already mentioned on the application form.
One letter of recommendation
Meet the Program Director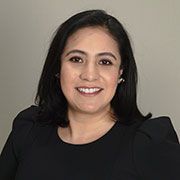 GW's experienced faculty provide you with the rich, practical knowledge and support needed for you to succeed in the program and in your career.
Graciela Lopez Gamboa, M.D., MSHS
Read Full Bio

Dr. Graciela Lopez is the current program director for the Molecular Diagnostic Science programs. She started her career in 2006 as a physician in Bolivia, later moving to the US where she continued to work in the medical clinical setting for over 10 years.  During this time she became interested both in clinical laboratory sciences as well as being part of academics, and in 2018 she graduated from the MSHS in Molecular Diagnostics program form George Washington University. The following year she began working with the Biomedical Laboratory Department (BLS) as adjunct faculty and since 2022 she has been in a fulltime faculty member. Nowadays, aside from her program director responsibilities she teaches online courses in the different programs available through our department plus she also teaches the in-person Molecular Diagnostics lab for our hybrid students.

Dr. Lopez is passionate about healthcare education and bringing awareness to healthcare careers, especially those within the clinical laboratory setting. She has been involved in developing the Medical Laboratory Technician/Phlebotomy Assistant pathway for the Health Science Academy at Alexandria City Highschool and was the first instructor for that program.  She also participated as a mentor for HOSA- Future Health Professionals. 

She is currently working on completing the Master Teacher Leadership program through GW University with the goal to continue to improve the courses and programs she is involved with.

She looks forward to working on academic and lab-based research alongside her BLS colleagues, as well as with the students that come through our programs. 
Sources:
Payscale (2020 January 20). Medical Technologist with Molecular Biology Skills. Retrieved on February 19, 2020
*Since each state may have different requirements for licensure, each student is encouraged to contact their state's regulating agency and review these requirements prior to beginning any degree program. States requiring licensure may require extended duration of practicum experiences, additional academic courses (outside the student's program of study), etc. These additional requirements may require you to take a course or courses outside of GW. Each student is encouraged to contact their state's regulating agency and review these requirements prior to beginning any degree program. In particular, New York and California have additional requirements for state licensure. Both NY and CA require extended times for practicum rotations.
Please also be aware that the fully online post-baccalaureate certificate programs do not meet the student lab requirement for NY state licensure. Also, for those applying to the fully online post-baccalaureate categorical certificates in hematology, microbiology, blood banking, and chemistry, the state of New York does not provide licensure for categorical certification (e.g., Technologist in Microbiology, Technologist in Blood Banking, etc.). We recommend that students who live in New York or California plan to relocate to New York or California do research to determine the NY and CA licensure requirements.